the instant solution for thinning hair –
hairtalk hair thickening
Today, one woman in ten suffers from thin to very thin hair or severe hair loss.
Whether due to a genetic predisposition, extreme stress, medication side effects, hormonal changes, pregnancy or menopause – with hairtalk you can create your dream hairstyle within no time, using a proven procedure with a track record of many years within the secondary hair sector.
Hair thickening with hairtalk extensions is usually enough for thin hair. For severe hair loss and very thin hair, particularly in the upper head area, the the hairtalk hairwear system in combination with hairtalk extension guarantees perfect results.
Hairtalk UK specialise in extensions and hair thickening will gladly advise you and find an optimal solution matching your individual needs and hair type.
the invisible solution for hair loss at the crown –
hairtalk hairwear
Hair loss and extremely thin hair is usually highly unpleasant and affects all age groups.
hairtalk hairwear is THE innovation for everyone affected by hair loss. A hairpiece for the top of the head that is light, thin, inconspicuous and can be customised to be indistinguishable from your own hair. You won't even feel the hairpiece thanks to the ultra-thin, seamless finish and you will not suffer that disturbing "toupee feeling". The woven parts are characterised by an unprecedented lightness and will give you self-confidence and a new, positive outlook on life.
The hairpiece is attached at the line of the remaining hair – not at the scalp – with medically tested tapes ensuring a comfortable fit without itching or sweating. Optimal results are guaranteed for women using hairtalk hairwear in combination with hairtalk extensions. The extensions are attached laterally to the head to cover as well as thicken the generally thin hair. In everyday situations, such as when sleeping, swimming or in the sauna, hairtalk hairwear allows for maximum flexibility and security. After wearing for a period of approximately three to four weeks, it is detached with a gentle solution by the hairdresser, cleaned and reattached to the hairline.
All hairwear secondary hairpieces are available in 15 natural real hair colours. The hairtalk hairwear Wonder Fill and Easy Top upper headpieces are additionally available in 5 colour variants with line colours that guarantee an even more natural look.
hairtalk hairwear upper head pieces are subsidised by many health insurance providers. Only certified hairdressers may order and attach hairpieces by hairtalk hairwear.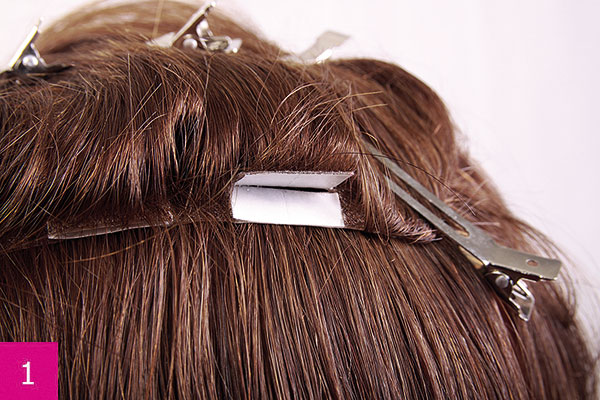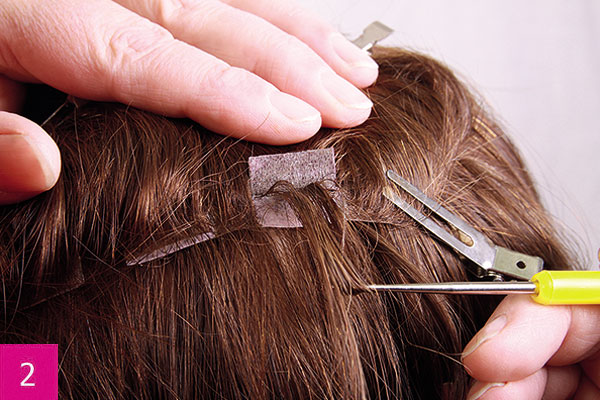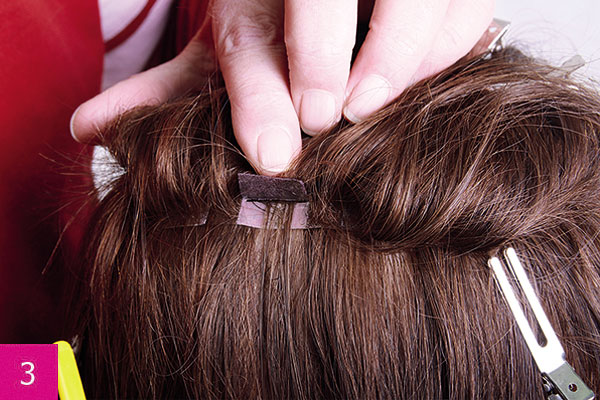 3. Pressing the adhesive surfaces
the immediate solution for more hair volume –
hairtalk extensions
Extensions do not always mean a long mane, if the hair is simply lacking volume.
The 25cm hairtalk strands offer the ideal solution for women with fine hair, but also for annoying transition hairstyles. The hairdresser magically and permanently applies the extensions to the hair in no time resulting in dense, shoulder-length hair that can be styled in different ways. This economical alternative to a hair extension does not radically change your own look, but underlines your female beauty tremendously.